1. Look for this envelope in the mail!
This envelope is very important! Please do not throw it away! It contains your Student Refund Card. You will need the card to select whether you want your refunds deposited to the Student Refund Card, to an existing account of your choosing, or would like to receive a paper check in the mail.
2. Find the E-Refund debit card in the envelope.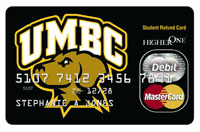 Once you receive the card you will activate your preferences online.
3. Access your funds!
Students choosing the Student Refund Card option will be able to access their funds at no charge via ATM at the following locations:
UMBC Main Campus (RAC & UC)
Howard County Community College (HCC)
University of Maryland Baltimore (UMB)
Please note there will not be an ATM for the Student Refund Card located at the Shady Grove campus. Shady Grove students are strongly encouraged to select the "existing account" option.